My name is Shany Azoulay, and this summer, I am traveling around Eastern Europe for the Dutch Jewish Humanitarian Fund (JHF). On my trip, I will visit projects for the JHF and meet people who can tell me about the Jewish communities in their cities.
Read my travel log below, or view my video log.
Serbia, Belgrade
First day - June 13
In the early morning (7 am) I am driving together with my mom to the airport in Amsterdam. After a stressful night of packing and planning, I am really excited to get on the flight to Belgrade. It will be the first time I will visit the east of Europe and I can't wait to see all the differences with the West of Europe. After some struggling with my check-in and getting through the whole security circus, I am ready to hop on a plane. Belgrade here I come!
When I arrive in Belgrade the founder of Haver Serbia named Sonja Viliėlé picks me up from the airport with her sweet little puppy Noah, who greets me with a lot of kisses. Sonja drives me to the city center of Belgrade, where we go for a lunch together with her colleague Mila.
While we are having lunch a thunderstorm is starting so they can't show me the city. Instead of that, they take me to their office. The office is in the city center, so it is ideal for throwing events for the Jewish community in Belgrade.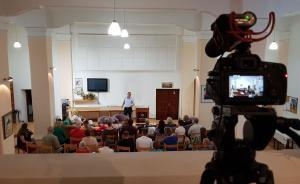 Luckily the thunderstorm stops around 6 o'clock because we have to go to the Midrasha (event) that Haver Servia is organizing in the synagogue for all the Jewish people in town and people that are interested in Judaism. It's a special Midrasha, because they only throw it once in half a year in the synagogue. To get to the praying place of the synagogue you have to get down the stairs. Approximately thirty people are sitting in front of a rabbi in the Synagogue of Belgrade who explains about when products are Kosher. A lot of people don't know much about it and are listening attentively. They ask questions and want to know where they can buy kosher products.
After the gathering, everyone moves to the attic of the synagogue, where they can chill and laugh with each other. I talk a lot with the people about the Jewish community in Belgrade. They tell me that the community is small but close. They all know each other well (everyone knows everyone). A lot of them were first chanichim (children) in the community where they would go to weekly gatherings for their own age groups and they learned about Judaism. While they grew older, they turned into madrichim (mentors) and counselors for the activities.
You can see from the way how they act with each other and hear about how they talk to each other that they know each other really well. They know exactly what is going on in each other's life. Later that night Sonja tells me how proud she is about that. She knows for sure she can count on every single one of them.
Second Day – June 14
The day I can finally see the city. While I walk around I hope that it's not going to thunderstorm again. I first walk to a big building that has to be a school for Jewish children. It's a big, but not really striking building. I continue my walk through the city center all the way to the park, where there is a fantastic view over the skyline of Belgrade.
At 2 pm I meet with Sonja and Lara, a woman from the Jewish community in Berlin, for lunch. We talk a lot about the differences between the communities in Belgrade, Berlin, and Amsterdam. Where the community in Belgrade is small and close, the community in Berlin is big and the people are struggling with each other. Lara tells for example, that 60 percent of the community in Berlin is Russian and they are trying to change the community. The rest of the community is having a hard time with that.
After lunch, I am meeting with Dushan who I met at the Midrasha the evening before. He tells me about his a drone with a camera and suggests to film some great footage together for the vlog post. I always wanted to try to film and fly with a drone, so of course, I say yes. Dushan shows me how it works and I can fly over the whole city. It is really lovely and cool to see the city from that perspective.
Unfortunately, we can't fly for a long time, because it starts to thunderstorm again. We are running through the rain back to the office, where we can see what the footage looks like and pick the most excellent movies in my vlog about Belgrade. Are you curious what it looks like? Have a look!
While Dushan and I are watching all the footages that we have shot, a lot of people are walking into the office of Haver Servia, because it is time for the second Midrasha that week. We are going to make Challah (special bread that you usually bake for Shabbat). It is a lot of fun to make them and see the whole process about how to bake them. They even make some special ones with apple and raisins inside. Of course, they taste amazing. It couldn't go wrong with so many Jews together.
After the Midrasha a couple of people want to show me what Belgrade looks like by night. After a small city tour, we end up on a street that is full of lanterns and terraces that are filled with people. Around them, there are a lot of mariachi bands playing music. We sit down at one of the lovely terraces of a bar and they let me try the local drink Rakia, what tastes really sweet, but strong. Every time they drink a zip, they cheer with each other and wish each other a long life. And because of that, there is one Serbian word that I will never forget and that I will end this post with ziveli!
Tartu, Estonia
Day 3
In the early morning (3.30 am) I am traveling by taxi to the airport. My flight is at 6.30 am, so when I arrive at the airport I should have plenty of time... I haven't. While I am searching for the counter to check in my bags, I see a huge line for the counter of Air Serbia. Luckily, I don't have to stand in that line, I think. But after I walked around the whole airport and decide to ask where I have to go to the information desk, it shows that everyone has to check in their backs at the Air Serbia desk. In vain I drag myself to the line, to wait there for an hour with loud people and screaming baby's around me. When I finally got through, I have to hurry to get to the gate. At the desk, they tell me that they can only print my boarding pass for my flight to Vienna and not all the way to Riga. That means that I shouldn't only have to worry about that I have only 70 minutes to transfer to my flight to Riga, but that I also have to run over the whole airport to get my boarding pass printed at a desk of Baltic airlines. Luckily, I all made it, but what a morning and it is not even 8 o'clock!
Ilja Hagins and his wife pick me up from the airport in Riga. Ilja is one of the organizers of the Baltic Jewish network that is organizing a networking seminar this weekend for young adults that are involved with the Jewish communities in the Baltic states: Latvia, Lithuania, and Estonia. We drive from Riga (Latvia) directly to Tartu in Estonia. On our way, we stop at a cute little restaurant. The area reminds me a lot of Hobbiton (a place in New-Zealand, where they have filmed the Hobbit and Lord of the Rings). They let me try the local delights: cold soup and Kvass. They both look strange and honestly unappetizing but are actually really tasty.
After a four-hour drive, we arrive at the hotel in Tartu. I meet the other organizers of the seminar and they welcome me to the Baltic states. We go out for dinner together and talk a lot about the seminar, how the Jewish community looks like in Estonia and Latvia and about the fact that there are barely Muslims living in the states (which is a big surprise for me).
Day 4
We are starting our day with a luxurious breakfast in the hotel. When we are all finished, we leave for a tour through a dairy factory named Alma, that is producing dairy products for Estonia, Latvia, and Finland. It's a special visit because usually no one can enter the factory and it's the first time they are doing a tour. We can enter the factory because one of the participants in the seminar was working at the company for a long time. Unfortunately, I wasn't allowed to film anything inside the factory.
After a tour through the factory and a presentation that included tasting all the dairy products that the factory was making, we went back to the hotel. The last people that were participating in the seminar, arrived and everyone checked in.
For the afternoon activity, one of the participants (the groups named him a walking encyclopedia) organized a Jewish walking tour. He shows us all the spots in Tartu that used to be (or still are) essential places for Jews, like a place what used to be a synagogue or a house where Jews were killed.
When I get down to the restaurant at the hotel I am welcomed with champagne. While I accept one of the champagne glasses gratefully, we get invited to take place at a long table where we will eat a four dish meal. A guitarist and a saxophonist are playing music in the background while we talk and enjoy our food.
I end up sitting next to the person that did the presentation in the dairy factory. He tells me about how he admires Dutch people on our excellent taste for milk and how good we are in trading. "The Dutch are the king in the dairy industry, no one can do it better than them.".
At the end of the dinner, the organizers of the seminar are asking everyone to move upstairs to the conference room, where a cocktail show is waiting for us. We split ourselves up in five teams to play a game. It's a fun game where you have to guess the brand of the product that is shown in a picture. We play it all night long and have a lot of fun.
Day 5
Today is already the last day of the seminar. The last thing to do is to discuss the new plans that the board has for the organization. The Baltic Jewish network is throwing two seminars a year. One big seminar with a lot of content and one 'after party seminar', what we are at now. During the discussion, they talk about whether to address fewer subjects during the big seminar. They usually discuss about five or six different subjects during the seminar. The board wants to change that to three subjects now because they think it is a good idea to focus more on fewer subjects, so they can learn more about the subjects they want to focus on. The members of the organization do agree with the decision and are happy they talk about it with them.
For a big finish of the seminar, we go to a science museum where you can discover a lot about science in a fun way. (It reminds me a bit of a museum in Amsterdam named Nemo). The adults are going crazy as soon as they are in the museum and act like they are children again for a couple of hours. The highlight of the museum is for sure a cable that is attached 6 meters above the ground where you can drive a bike over and a chair where you can pull yourself up. Next to the bike are a lot of water attractions. There is one where you can create a tornado or waves for example. The end spectacle is a big elastic ball that is hanging at the ceiling and that you can open up if you are standing with the right amount of weight on the platform under it. After a lot of calculating, throwing some bags of our shoulders and taking some shoes off our feet, we succeed to open the ball. Everyone has a big smile on their face.
When we said our goodbyes to everyone we start to drive back to Riga. Ilja and his wife drop me off at my hotel and from that moment I have eighteen hours to discover Riga before I fly out to Budapest. I am dedicated to seeing as much as I can.
I decided to go to one of the highest rooftop bars in Riga in the Radisson Blu Hotel, that a Dutch friend recommended me to go to. From there I can watch the sunset, while I sip at my cocktail. During the sunset, I meet two guys from Zurich named Vladimir and Mattias, that are on their way to Moscow to visit the world cup. They are already here for three days and their stories about how amazing the city is, make me even more excited for seeing it by daylight tomorrow.
When it is almost dark outside (I don't think they even have dark nights here at this time of the year), I say goodbye and walk back to my hotel. It's funny that I walk over the streets in the middle of the night, in a city where have I arrived not even five hours ago, without feeling scared at all. Instead, I feel lucky and fortunate that I can see so much of the world and meet so many great people, it's something that makes me feel one of the luckiest persons in the world.